Hello everybody! This time I'll be reviewing something that's not a figma! *gasp* Today's review is on Wave's Saber Alter Beach Queen.
Saber Alter is a corrupted version of Saber which appears in Fate/Hollow Axtaria and the Heaven's Feel route of Fate/Stay Night. Saber Alter possesses the excellent skills of normal Saber, but lacks feeling, making her a formidable opponent.
Wave's Beach Queen series is an ever present, yet easily unnoticed force in the figure world. Each figure is 1/10 scale and wearing a swimsuit, and although the sculpts aren't bad, there's not much to make the figures noteworthy, and seeing figure after figure in a swimsuit(both the suits and poses are often similar) becomes redundant. For these reasons I'd never contemplated purchasing a Beach Queens figure. But when the first sculpts from Wave's set of Sabers were unveiled, they certainly caught my attention. The set includes Saber Extra, Saber Alter, and Saber Lily, and is based off of this illustration:


When preorders began, I promptly ordered Extra and later Alter to accompany her. I eventually ended up cancelling Extra though because she felt like an impulse buy, but since I like to stay on Amiami's good side, I decided to keep my preorder for Alter with plans to sell her as soon as she arrived. I had absolutely no desire to keep Alter until photos of the final product surfaced, and I knew I just had to keep her. Now that I can see Alter in person, I know keeping her was the right choice! Why is that? Well, let's find out!

The box has a simple white and green color scheme with a yellow interior. I like the box, it's not loud and looks quite nice considering it's simplicity.
One of the first things I noticed about Saber after removing her from the box is her size.


With her base, she's about as big as a mug.
But before picking on Saber for her size, let's look at her more closely.


This figure distinguishes itself from other Saber Alter figures by placing her in a simple bathing suit rather than armor.

Wave took some artistic liberty with Saber's paint by making her not as pale as in the illustration, but I don't think this impacted the figure negatively.

One of my favorite things about this figure is her pose. It's so unique and adorable!

In fact, I'd say most of the appeal of this figure is the pose! To depict a villainous character in such a cute way– it's so scandalous that it's perfect.

What gives this figure life is that even though Alter is wearing a swimsuit like all other Beach Queens, she still retains her personality. Saber Alter isn't the type to wear a swimsuit, but if she did, this is totally how she would look! I find the whole Saber set appealing for that reason.

That popsicle is darn cute as well.
Saber becomes even cuter when we look closer!

Her bangs are cleanly sculpted, and the paint looks great too! Her bangs are free of unsightly bubbles or paint glopping.

Although sharp and gold, her eyes have a softness to them. She even has a gentle blush that wasn't present on the prototype. For once, I can be happy when something was changed on the final product!

Her eyes are decals(as with most figures), but possess a lovely shine which distinguishes them from her matte hair and clothing. It would have been nice if the popsicle was painted to look glossy too.

This is an odd comment, but I really like how round her head is. It looks so refined.
Seams on her hair bow are also visible, but considering the scale of the figure, I don't think it's an issue.

The bow is painted differently than her suit to give the appearance that it's made from a silky material. I'd say it looks quite nice.

I've always wondered how Saber makes her hair look like that. Especially since it only reaches her shoulders when down…

Saber's chest and bellybutton are easily seen from this angle. A little bit of glue and some seamlines are also visible, bit I honestly didn't notice them until looking at these photos…

Definitely a rough spot on her arm band…

Anyone else who reads GSC Mikatan's blog is probably aware of how she often comments that bare areas on figures look soft and touchable. Honestly, I often found these comments to be a tad creepy, but looking at this figure, I totally understand why Mikatan says those things. Saber's back really does look soft like skin!

The features in her back are sculpted in a way that they aren't too apparent, but create shadows very nicely making her back appear more realistic. I like that if you look closely, you can see the line of her vertebrae. Oh, and you can't forget those cute bows!

Here you can see the division between clothing and flesh very well. The paint really does make it look like they're made of different materials.

Her tummy.

I love the detail in each finger and toe. They even painted her nails!

The darker black line on her skirt is painted well.

I usually think of bathing suits with skirts as something for older women(my grandma used to have one XD) or little girls, but this bathing suit suits(lol) Saber Alter quite well–especially with the covered neck(which you obviously can't see in this picture) as I feel that something colorful(like Extra's suit) or revealing would not compliment Alter's personality.

The skirt is nicely sculpted!

Subtle shading on the skin provides depth!

Our tour ends with a shot of Saber's underside. Its appreciated that Wave made sure to add detail there instead of making her completely flat underneath.
Being a scaled figure, Saber Alter does not possess much in the way of accessories, but she does have a few gimmicks.
First is the joint in her head which allows her to look in different directions.

You know I love my sideways glances!

She's a real head turner *bad pun*

A feature like this is gold on a figure with such an expression. She looks cute at every angle!
And if you don't care for her popsicle face, an alternate expression without the popsicle is included.


Swapping out the expressions is fairly easy. Just remove her bangs, then pop off the rest of the head and replace the face. The head fits on a little ball on her neck.

The second expression has a different–almost condescending–feel to it. Almost as if she's silently judging you. Her gold eyes appear more harsh on this face. I prefer the popsicle one
Last is the base.


Her base is the typical sand covered hexagon included with all Beach Queen figures. I don't see anything wrong with it as it's consistent with the rest of the line, and suits the swimsuit theme.

Nice texture.
Also, there is no place for Saber to connect to the base–she merely sits on it. I initially didn't like this as it made the base feel unnecessary, but after some thought, I'd rather Saber sit on the base than have a hole on her underside. Besides, I don't think her falling off will be an issue.
Now that we've examined Saber, let's take her out for a photo shoot!

My favorite photo from the whole shoot!

Palmtop Saber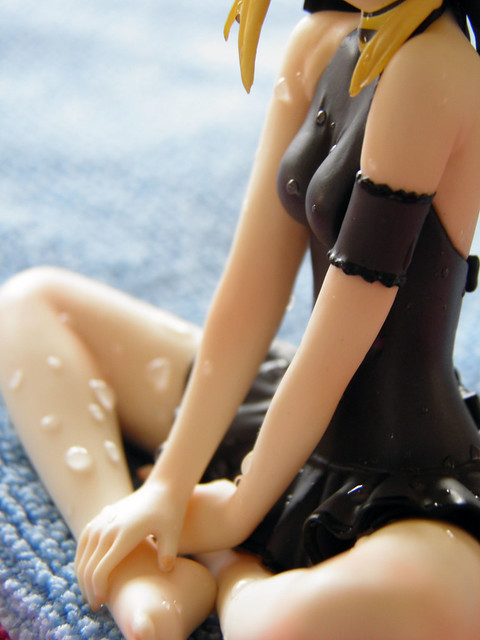 *Update* Since this review, Saber has solidified her place as one of my favorite figures. Her simplicity makes her a joy to photograph, and I was even able to take her to the beach as hoped. Here are a few more recent photos:

One of my favorite photos ever!

And playing with back lighting at home.
Final Words
This figure was an impulse buy, but I totally love her! Alter's personality really shines through and her compact pose makes her a blast to photograph! I can't wait for the season to change, so I can take her outside and have fun all over again, she'd be fun to play with at the beach too! Has this figure convinced me to start collecting Beach Queens? No, but I definitely don't regret getting her, and enjoyed venturing out of my figure comfort zone a bit. I'd only consider buying another Beach Queen if it was a character I really like(like Caster Extra) in a cute pose. But in the mean time, I'll enjoy my little Saber.
Well, that concludes this review, I hope it was useful to you, and thanks for reading! =)